I didn't have to twist Bob's arm too much to get him to go to an early movie today. We went with our friend Marilyn to the 10 am show at Bay Park Square to see the Downton Abbey movie.
It was a $5 Tuesday showing so the price was right. All we had to do was bring Bob's pills along so he would be able to take them at 11 as scheduled.
We have watched all the TV episodes of Downton Abbey. It was great to see the characters again, living a different time and a different place.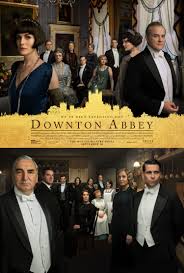 I don't think you had to have watched the TV episodes to enjoy this movie, but it helps. Women were the majority viewing the movie today, but Bob was not the only man there. There were 5 or 6 others.
Bob and I both recommend Downton Abbey the movie and also the television series.
Copyright © 2019 Susan Manzke, All rights reserved