I've shared the tributes from Rachel and Russell in my column. Today I'm working on a column with off-the-cuff stories from Rob and Rebecca. These will come out later this week in the newspapers.
Today, I have the written words of Rob about his dad. I want to share them here today. This is what Rob wrote, though he did go off-script at Bob's memorial.
"My dad was a hardworking, compassionate, every-man farmer who had two priorities in his life.  His family and his farm.  And, as my mother often pointed out, they weren't always in that order of importance for him.  But, those two priorities were interdependent and intertwined.  He worked tirelessly every single day of his life to provide for his family.  When my siblings and I were still growing up and living at home, my dad worked two jobs to help put food on the table and keep the roof over our heads.  The summers meant that Dad was working the night shift at the canning company.  He'd leave for work at 6 pm, come home at 6 am (sometimes later if he fell asleep in his truck in the driveway), sleep until 10 am, work on the farm, and then head back to the canning company at 6. He worked so his family could live comfortably and happily on the farm on Gardner Road.  That was my dad.  
My dad was the ever-creative, self-taught engineer. The tools of his trade – tractors, trucks, plows, and other farm equipment – had frequently lived a long and productive life well before he purchased them. While I know he couldn't have afforded to buy new, I also believe he thrived on the creative challenge of giving new life to old equipment. It was through dad's example that I learned the values of ingenuity, grit, creative problem solving, and self-reliability. And, while I know absolutely nothing about the mechanical workings of a 1972 International Harvester, I do know how to face challenges in my life with the same level-headed determination as my dad.
"It would be a near impossibility to live your life as a farmer without possessing an unyielding sense of optimism.  My dad was the epitome of optimism.  Every spring, he took countless tiny seeds and planted them in the ground – knowing that much of the success or failure of the crop was out of his control.  In the time between planting and harvest, my dad would manage his fields to give his livelihood the best chance to grow. 
Together with my mother, my father the farmer raised his children with the same philosophy of patient optimism.  Every day, he instilled in me and my siblings a strong work ethic, a passion for life, a steady disposition and eternal optimism.  He planted those seeds within his children early in our lives, he tended to us throughout our childhood by living those ideals, and he waited (patiently) for us to reach our potential – knowing that much of our success or failure was out of his control.  I for one think he and my mom did a darn good job with their crop of children.  
"So, let us take the time this afternoon to celebrate my dad's life and his accomplishments.  Although we won't have the opportunity to have new interactions and experiences with him, we have countless memories to cherish.  But, more importantly, we help him live on through each of us.  He lived his life true to his ideals – universal compassion, a steadfast commitment to his family, self-reliance, working hard for what you believe in, and eternal optimism. We all can take those ideas with us to honor him and keep him alive."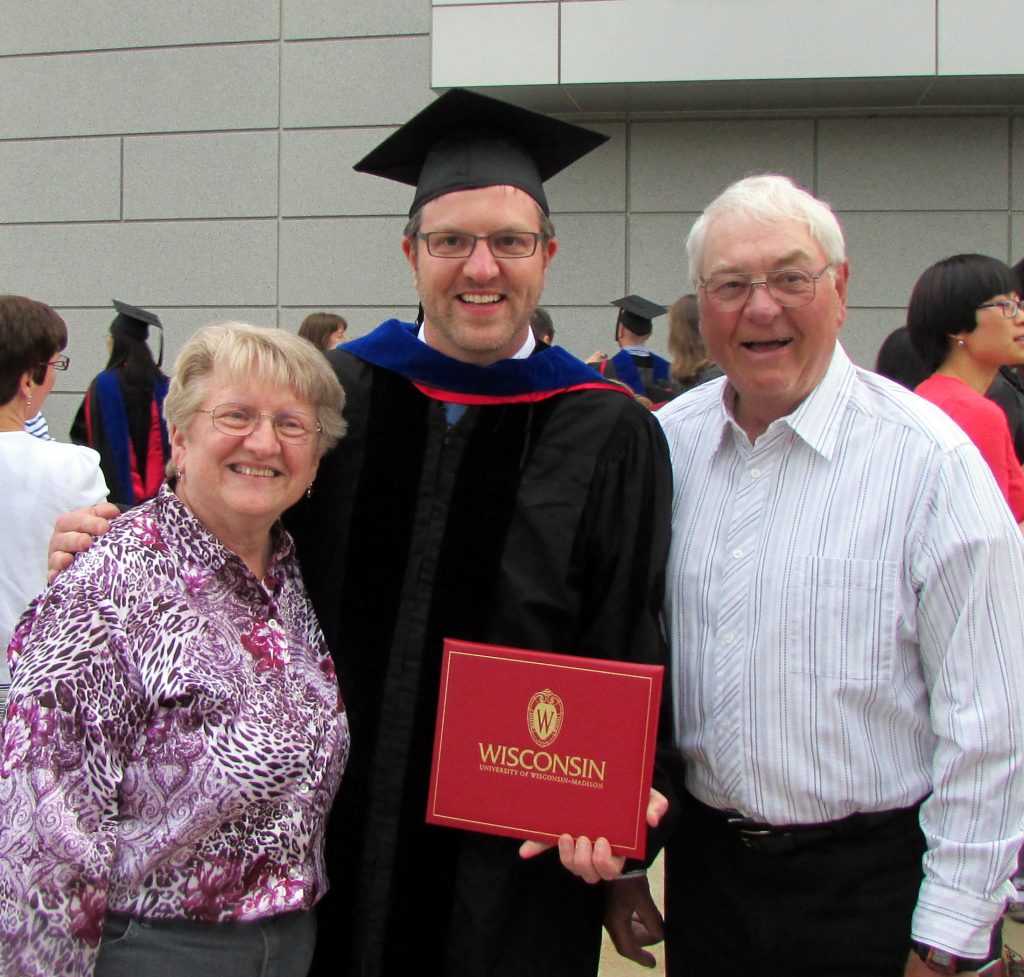 I'm also sharing this photo of us with Rob when he got his Ph.D. A wonderful day Bob and I were so proud of our firstborn.
Copyright © 2020 by Susan Manzke, all rights reserved