I like to eat bagels but I've never made any until today.
A friend bragged about making bagels on FaceBook. It didn't sound too hard, so I thought I'd give it a try–before I run out of yeast.
I googled bagel recipes and finally found one at home in an old West Bend Automatic Bread & Dough Maker instruction book–this bread maker is long gone, but the recipes are still good.
Bagels — ingredients to make 8 bagels
1 cup warm water, 3 cups flour, 2 Tablespoon sugar, 1 1/2 teaspoon salt, 1 1/2 tablespoons butter cut into 6 pieces; 2 teaspoons yeast.
I mixed these ingredients in my current bread machine as I would a loaf of bread on the dough setting. After it mixed and rose in the machine I continued with the recipe instructions.
Remove dough from pan, place in a lightly greased bowl, cover, and refrigerate 20 minutes.
Remove from refrigerator and place dough on a lightly floured surface. Divide into 8 equal pieces. Punch hole in the center, and form into a bagel shape.
Let rise in a warm place for 30 to 45 minutes.
Meanwhile, bring 3 quarts of water to a boil. Add 1 tablespoon of sugar to water. Reduce heat to a simmer and carefully add 2 to 3 bagels to the hot water. Simmer 2 to 3 minutes on each side (I was more successful with 1 minute simmer on each side, which was suggested in another recipe).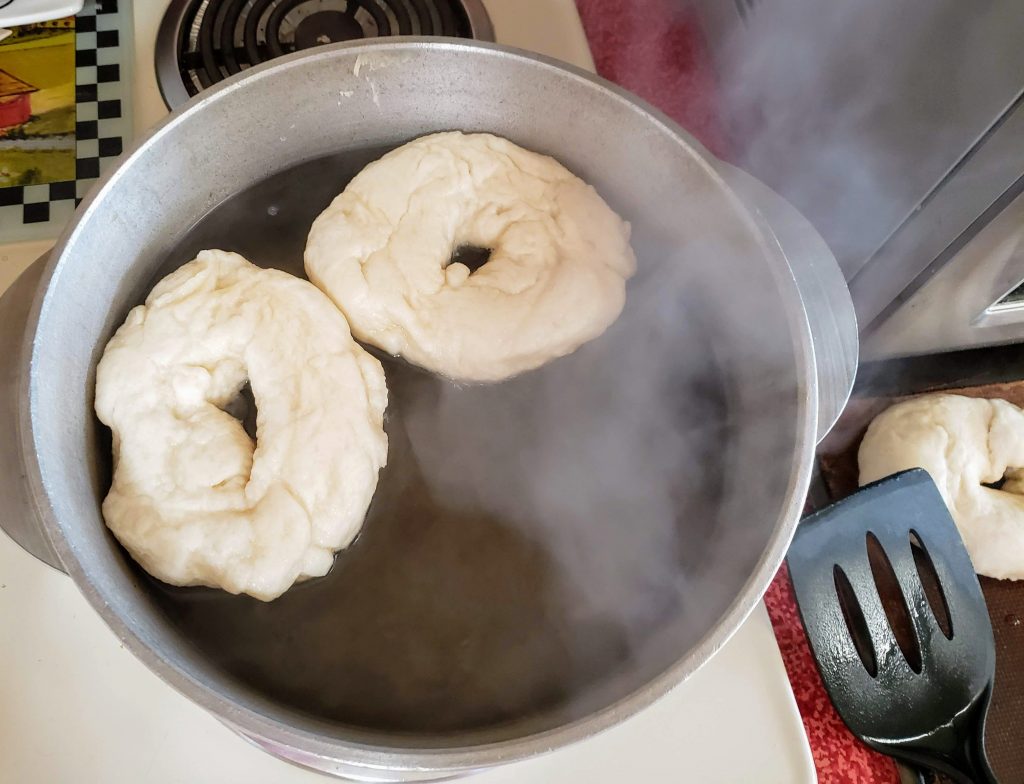 Drain and place on a greased baking sheet. Bake in preheated 400-degree oven for 15 to 20 minutes–times varied for me.
Mine did not all look lovely as the ones from the bakery, but were edible.
I shall try making bagels again, but may play with the recipe. I think splitting the dough into 16 pieces would be better.
If you have a good bagel recipe, please send it my way. You can email me at sunnybook@aol.com. (Also, if you know where I can get yeast, let me know. It's like buying gold these days, if you can find it.)
For those of you who subscribe to my blog, check out my YouTube channel. I'm reading from the early years of my column
Copyright © 2020 by Susan Manzke, all rights reserved