Note: You can purchase a signed copy of any of my books directly from me. All are on Kindle, too.
Never Bring Her Roses: A Romance Novel
Order through Amazon.com (Kindle)  (Paperback) (Large Print)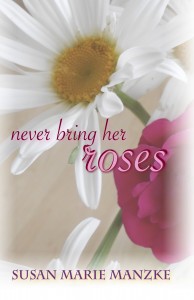 Leaving the hectic life of the city for the peace of the rural countryside seemed a dream come true for Melody Kinsman, a talented young artisan. But her search for artistic expression and independence would exact a heavy toll-on her own heart. NEVER BRING HER ROSES is a glowing novel of a woman's struggle for the freedom to make her own choices in life, and the price she must pay where love is concerned.
For Melody, her new home in Hickory Bend, Wisconsin, seemed the perfect choice, an ideal setting where her natural high spirits could run free, and where her considerable talents as a potter would nourish. As companion to the elderly Lena Whitney she enjoys a sense of home and security that she has never known before. But Melody soon learns that a change of location does not guarantee serenity, as her involvement with two volatile men of diverse temperaments proves.
Warren Heart, Melody's upper-crust boyfriend, makes no secret of the fact that he is less than satisfied with her new life-style, and continually tries to lure her into his glamorous world of social functions and prominent personalities. Marriage to Warren would mean security, but Melody remains hesitant.
On the other hand, Alexander Keely, Lena's darkly handsome nephew, offers nothing in the way of security, but his piercing blue eyes ignite an undeniable spark of excitement in Melody. She believes the attraction is mutual, despite the fact that Alexander seems strangely remote, never allowing his true feelings to get in the way of his mysterious plans for the future.
Caught in a swirl of confused emotions, Melody desperately tries to come to terms with the two men and the alluring, yet disparate worlds they represent. Can she resolve the conflict within her heart and still remain true to her own needs?
---
When the Spotlight Fades
Order through Amazon (Kindle) (Paperback) (Large Print)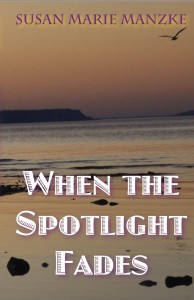 Gwenn Nichols is a young, attractive real estate agent who has been unlucky in love. Though always a loyal friend and generous to a fault when it comes to men, she often tends to be suspicious and wary.
Randal Cochran is a theater director who has achieved a remarkable degree of success early in his career. And with his overwhelming good looks and arrogant magnetism, Randal is one of Wisconsin's most eligible bachelors.
This unlikely couple meet at an audition for a local amateur production that Randal is directing. But the fire ignited in Gwenn's heart is quickly cooled, as wealthy and gorgeous JoJo Adams begins her relentless campaign to land Randal.
Gwenn and JoJo win significant parts in the play, and Gwenn watches with amusement as
Randal's rejection of JoJo's advances only spurs the flirtatious woman to even greater excesses of affection. Yet, over the course of the rehearsals, Gwenn finds she must fight her own fierce attraction to this handsome man, despite his irritating self-assurance.
Then, suddenly, Randal becomes extremely attentive to Gwenn. Obviously, there is something that this independent, sensible woman has that Randal, a man noted for getting what he wants, must possess. Gwenn knows he will go to any lengths—including romance—to get it . . . but will she still be able to keep her head while her heart is under siege?
---
Link to UP and DOWN TWINS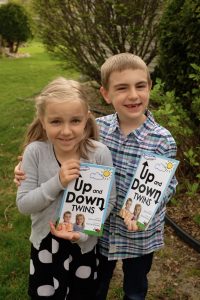 Words in My Pocket: Early Days on Sunnybook Farm
Order through Amazon(Signed copies available by contacting Susan)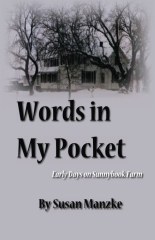 Susan Manzke began writing her weekly column in 1980, soon after the birth of Russell, her third child. Her personal stories range from farm filth to kite flying, from tractor troubles to truck towing, and from refrigerator Valentines to Halloween costumes. Written in journal style, Manzke's words are filled with humor, hard work, and determination in overcoming every obstacle to live a creative and fulfilling life.
---
Words in My Pocket 1984-1985: More stories from Sunnybook Farm
Order through Amazon (Paperback) Also on Kindle. Signed copies available by contacting Susan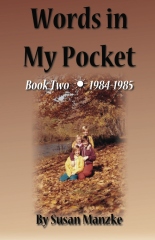 Words in My Pocket 1984-1985 is book two in Susan Manzke's collections of columns. Stories of life on Sunnybook Farm, Seymour, were and are seen weekly in the Wisconsin State Farmer newspaper. This collection includes stories about 18 month old Rachel writing on the walls, remodeling projects, farm breakdowns and many other assorted stories.
---
Route 2, Box 12
Order through Amazon (Kindle) and in paperback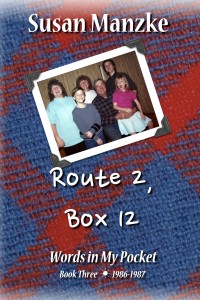 It's 1986-87 and we are again on Sunnybook Farm with the Manzke Family. These two years of columns again come from Susan Manzke's weekly column that runs in the Wisconsin State Farmer Newspaper.
The years are tough ones for farmers, but with humor Susan reminds us of the good times and the tough times in Wisconsin.
---
---