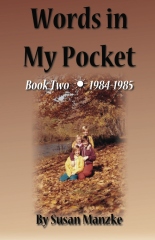 Words in My Pocket 1984-1985
Order online at  www.createspace.com/3761529
More stories from Sunnybook Farm
Authored by Susan Manzke, Susan Marie Manzke
Words in My Pocket 1984-1985 is book two in Susan Manzke's collections of columns.
Stories of life on Sunnybook Farm, Seymour, were and are seen weekly in the Wisconsin State Farmer newspaper. This collection includes stories about 18 month old Rachel writing on the walls, remodeling projects, farm breakdowns and many other assorted stories.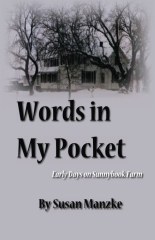 Words in My Pocket; Early Days on Sunnybook Farm
Order online at www.createspace.com/3610317 (use discount code 9CRTYBB9).

Authored by Susan Manzke
Susan Manzke began writing her weekly column in 1980, soon after the birth of Russell, her third child. Her personal stories range from farm filth to kite flying, from tractor troubles to truck towing, and from refrigerator Valentines to Halloween costumes. Written in journal style, Manzke's words are filled with humor, hard work, and determination in overcoming every obstacle to live a creative and fulfilling life.